FeatureD Work
Better Boys Foundation and Family Services
Non Profit Event Management IN CHICAGO.
Marketing Management, Public Relations, Multi-Year Contract
Let's Get Started
The Better Boys Foundation was looking for Event Management services to help increase revenue for their annual gala fundraiser. We helped offset costs and increase the proceeds raised for vital programming and services to combat poverty.
Over the course of 5-years, Joanne Klee Marketing partnered with the Better Boys Foundation for their annual fundraiser 'Friday Night Fights' success and to ensure great marketing, cost savings and revenue goals were met.
Non Profit Event Fundraiser ACCOMPLISHMENTS
Objectives: Sponsorship growth 5-10%, year-over-year
Increased event efficiency budget savings 15% by streamlining
Increased event attendance YOY
Exceed income goals by $60,000
Expanded invitation management, auction efficiency and post event payment process
Continually evaluated looking for event gaps in the process and verifying accountability
Marketing Services for Event Management
All the graphics design needs were met with great designs for the program books, ticket sales, and event signage. Changing the design year-to-year yet maintaining tone, message, and brand consistency of the organization are included in the event management services Joanne Klee provides.
Graphic Design Services for your Event
Graphic design is just the beginning of great event management content. We develop the invitation design and eloquence in the wording. On the interior of your program book, we include all copywriting needs. Message from the co-chairs = check. The evening program and event agenda = check. And behind the scenes we stick on the timelines to your agenda to make sure that all the planned events will fit into a solid timeline.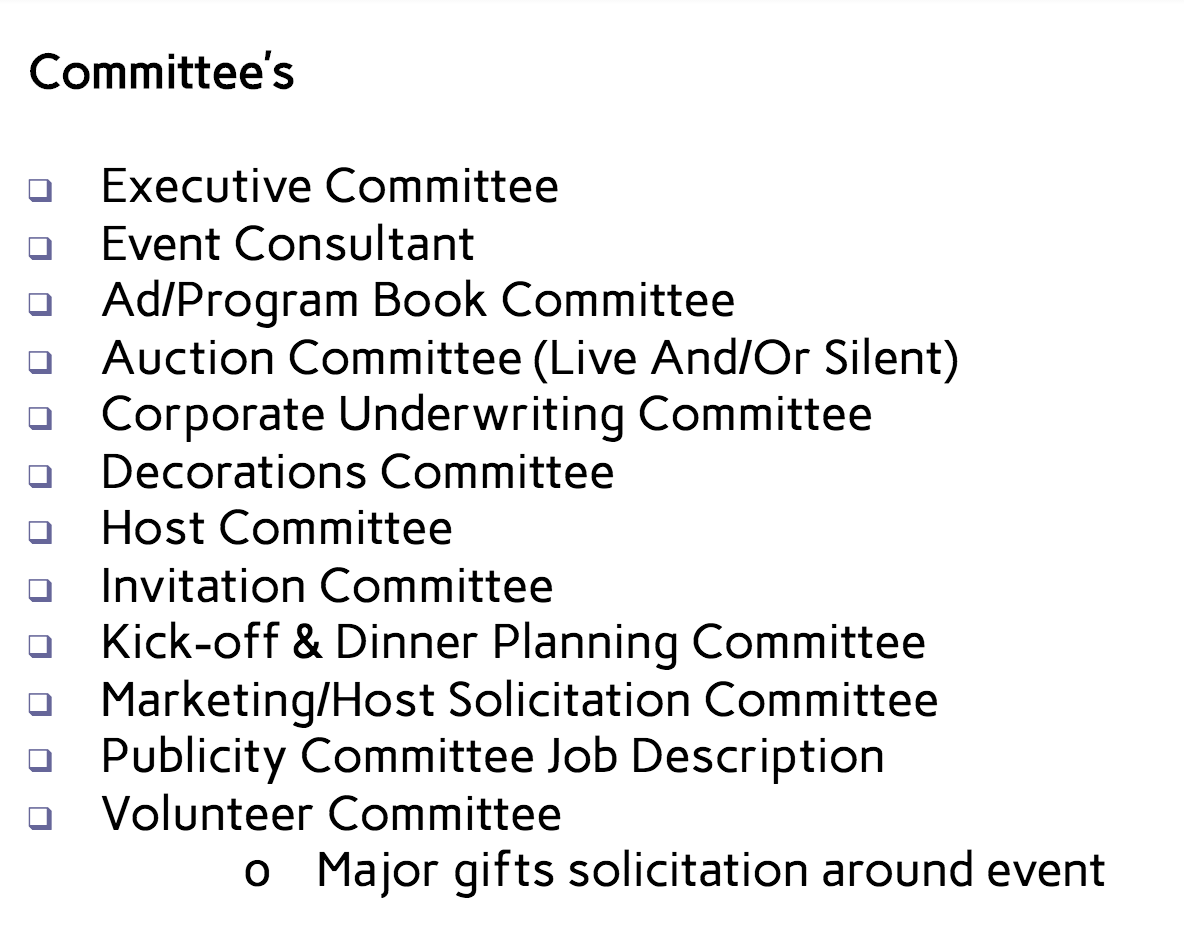 Event Committee Management
Joanne Klee Marketing and Events will develop the committee structure and manage the committee meetings. We ensure that everyone understands their committee member role, and the goals of the group. We attend the meetings, scribe the notes and report back to management, while keeping track of the details to make sure it all gets done.
MANAGING A COMMITTEE BASED EVENT
From a committee driven event to a team of employees, we keep everyone on track with proven project management on the event planning space. We can plan their tasks and keep everyone on time. Efficiency matters. All in a fun, approachable way.
Executive Committee
Event Consultant Role
Advertising and Program Book Committee
Silent and Live Auction Committee
Corporate Underwriting and Sponsorship Committee
Decorations Committee
Host Committee
Invitation and Registration Committee
Major Gifts and Solicitations
Kick Off, PreEvent and Dinner Planning Committee
Marketing Committee
Publicity and Media Relations Committee
Volunteer Management Committee
Press Release &
Public Relations
"Amatuer Boxing Fundraiser Helps Knock Out the Effects of Poverty"
We provide the media relations strategy for non-profit organizations and fundraisers. We go beyond the press release and reach out to local contacts specific to your event to promote and create excitement for added media attention. It's a full service event plan with PR integration.
New Center Grand Opening Events. Multi-Day Event Series.
We developed the BBF newly constructed center 'Grand Opening Event Series.' The 3 Days of events included Friday Family Night, Saturday Donor Soirée, and Sunday Community Open House. We provided Full Service Event Management so the non-profit staff could mingle with the families and donors.
Event Management Project Plan
We manage the event details from the pre-production and sponsorship development, to the onsite details of auction management and vendor services. We manage the details to ensure event success.
FULL SERVICE EVENT MANAGEMENT | CHICAGO BASED
FULL SERVICE EVENT MANAGEMENT //
We handle all the event details, in Chicago and nationwide. Our event management experience allows an understanding of your business goals related to the conference or fundraiser, and the services to plan for the best event. Here is an excerpt of our "To-Do List" when planning your business function.
Pre-Production and Event Planning Launch
Committee Structuring and Site Selection
Sponsorship and Advertising placement timelines, mailing deadlines
Auction Solicitations letter development to mailing timeline
Contractual Work: Obtaining Bids and Securing Vendors
Design Timeline, Save the Dates Series and Invitation Deadlines
Database development and management
Invitations development, printer timeline, mailing costs, and personalization
Develop event signage list, design & printing management, delivery schedule
Program book development, advertising specifications, design and printing
Day of Event needs from timelines, producer notes, delivery and vendor confirmations, script development and housekeeping items for the audience
POST EVENT. It's not over yet, ... post event survey consolidation, committee assessments and de-briefings.
Mailing of thank you letters, tax letters
Board Members Referred Events //
Our Joanne Klee Marketing firm grew our partnership with BBF Board Members where we had the success of working with The Joseph Kellman Family Foundation and the Gale Sayers Center. See the Beach Ball Fundraiser here in Events and below in Gale Sayers Celebrity Golf Open.
Gale Sayers | Celebrity Golf Open
Joanne Klee Marketing and Events provided Full Service Event Management for the Gale Sayers Foundation, with founder and former Chicago Bears Running Back, Gale Sayers.
The Joseph Kellman Family Foundation